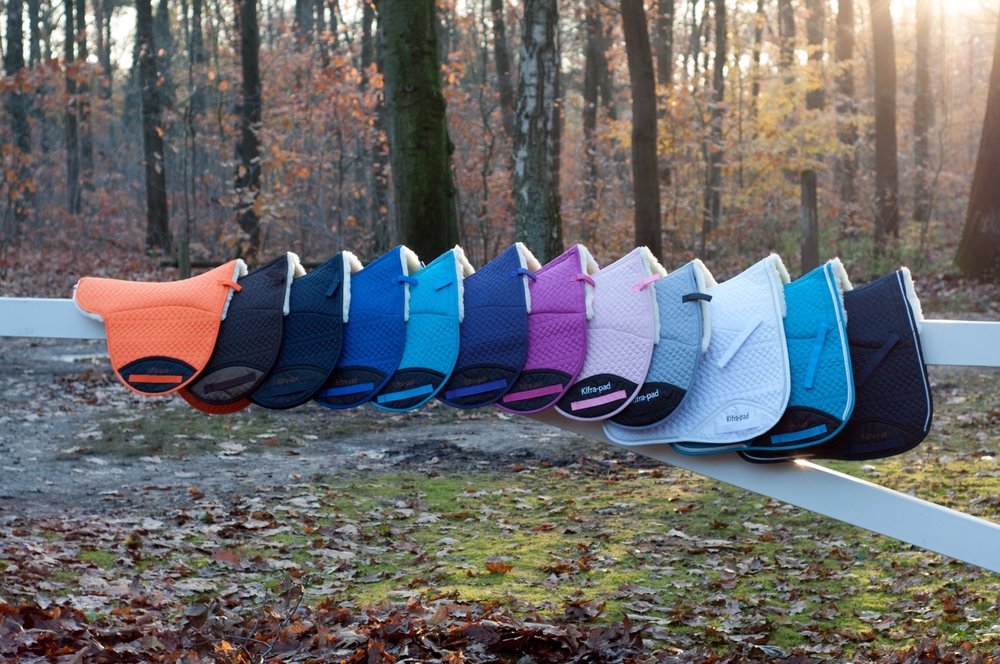 Kifrahorse heeft een ruim assortiment aan pads en dekjes voor boomloze zadels.

Waarom een speciale pad?
Omdat een boomloos zadel geen houten of kunststof boom heeft en veelal ook geen kussens heeft, is het belangrijk om een goede pad te gebruiken die het ruitergewicht over een groot oppervlak verdeeld.
De werking van de pad kun je vergelijken met de kussens onder een boomzadel en mag niet worden onderschat.

Met of zonder verwisselbare inlagen?
Of je een pad met of zonder verwisselbare inlagen nodig hebt hangt af van de vorm en bespiering van de rug van je paard.
Vaak kun je een pad zonder verwisselbare inlagen (denk aan een Burioni pad) gebruiken op paarden met veel massa ( spieren, vet) naast de ruggengraat.
Heeft je paard een meer afwijkende rug vorm of is je paard arm bespierd dan is het raadzaam om voor een pad te kiezen met verwisselbare inlagen,
zodat deze, indien nodig dubbel geshimt kan worden.


Is je paard onbespierd en vergelijkbaar met de afbeeldingen A? Kies dan altijd voor een pad waarbij inlagen verwisseld en extra toegevoegd kunnen worden. Een goede training om de rugspieren meer te ontwikkelen is hierbij zeer belangrijk.
Afbeelding B geeft een normale rug aan. Ook hierbij raad ik aan om te kiezen voor een pad met verwisselbare inlagen
De afbeeldingen C en D geven paarden aan met meer massa naast de ruggengraat al dan niet door vet. In combinatie met een niet te zware ruiter kan er prima gekozen worden voor een pad met vaste inlagen zoals een Burioni pad.

Bij Kifrahorse bieden we verschillende type inlagen aan:
De neopreen inlagen worden standaard met alle Kifra-pads meegeleverd en zijn voor vrijwel alle paarden geschikt. De neopreen inlagen hebben een hoge dichtheid en zorgen voor een goede drukverdeling. Indien nodig kunnen er 2 lagen neopreen op elkaar gebruikt worden.
3 mesh inlagen zijn gemaakt van stevig en ademend materiaal. Bij puntdruk (denk aan 2 vingers op elkaar) zijn de inlagen gemakkelijk op elkaar te drukken. Bij druk over een groter oppervlak zijn de inlagen nauwelijks in de drukken. Deze inlagen zijn goed te combineren met de neopreen inlagen ( eerst een laag neopreen en dan 3mesh ) of te gebruiken op goed bespierde paarden i.c.m. met een goed opgebouwd boomloos zadel.
Vilt heeft goede ademende eigenschappen en druk nauwelijks samen. Vilt inlagen kunnen goed gecombineerd worden met neopreen en 3 mesh inlagen, of als enkele inlagen worden gebruikt bij goed bespierde paarden.
Foam heeft goede druk verdelende eigenschappen, mits compact genoeg.
Foam inlagen kunnen goed gecombineerd worden met andere inlagen.

Wol , scheerwol, katoen of sympanova onderzijde?
Voor welke onderzijde van een pad je kiest is heel persoonlijk. Lamswol is zacht en ademend en ideaal voor gevoelige paarden, maar kan voor sommige rondere paarden te glad zijn Lamswol is minder geschikt voor paarden die veel zweten. Door het zweet wordt lamswol kwetsbaar en kan dit kapot gaan. In dat geval is scheerwol, fleece, katoen of sympanova een betere optie. Scheerwol is wat ruwer en kan net iets meer grip geven.
Sympanova is een kunststof antislip materiaal wat goed kan werken bij rondere paarden of paarden die veel zweten. Niet ieder paard vind sympanova prettig.